Why athletes love
Reboost 100% Maple Energy?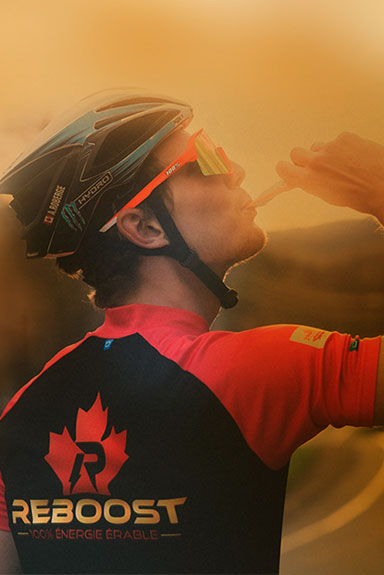 énergie

Because Reboost is a great source of  potassium, calcium and magnesium, it become the best energy gel to help your muscle recover faster and stonger.

RECOVER FASTER AND STONGER

Natural source of energy, REBOOST also contains its lot of antioxidants. Taking antioxidants before and during training reduces muscular fatigue and facilitates recovery.

PERFORMANCE GEL

REBOOST provides a significant amount of carbohydrate that will be easily metabolized to glucose during training, providing the energy needed for performance and contributing to increased resistance.

ATHLETES NEEDS REBOOST

Our body must pump carbohydrates from the liver and turn fat into energy, which is much longer to achieve than absorbing fast carbohydrates. The simple carbohydrates contained in a REBOOST sachet are rapidly metabolized and quickly available to the muscles.
Our Reboost Ambassadors
LYSANNE RICHARD

Reboost makes me proud as its the purest, most energetic ingredient we can find in the world…and it's made here in Quebec, Canada! Wherever I compete, train, or planning my next dive, I always consume what's best for me, my body and my soul. Reboost contributes in all these areas to unleash my full potential.
Our products
REBOOST 100% MAPLE ENERGY GEL
ADAM ROBERGE IS REBOOST
CANADIAN CYCLING CHAMPION
Reboost gels are essential to my optimal performance in training and competition. They are super easy to swallow and digest, two crucial attributes especially at high intensity. From a nutritional point of view, maple syrup provides me with an optimal amount of carbohydrates and electrolytes, allowing me to avoid lack of energy and muscle cramps. Finally, most important to me, they are delicious.